WInvertebrates Contributors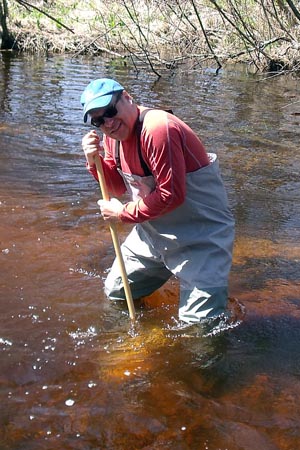 Dr. Graf sampling amphipods in the Tomorrow River.
This site is managed by Dr. Daniel L. Graf of the University of Wisconsin-Stevens Point. Dr. Graf is responsible for all coding, database development and web site design, as well as the bulk of the data entry.
Richard Mahoney (UWSP student) pioneered the system for student data entry during the Spring Term of 2014. Click here to see his poster at the College of Letters and Sciences Undergraduate Research Symposium. Richard continued working on the project during Fall 2014, and Shellby Wollin (UWSP student) made substantial contributions during Spring 2015. Click here for a look at a poster on their contributions to the project.
Daphne L. Graf (P.J. Jacobs Junior High, Stevens Point, WI) has volunteered her time and expertise to wrangling data on the Rotifera and Ostracoda. Click here to see her introductory essay on the subject.
Various UWSP students have contributed essays on invertebrate zoology as part of their course work.